Bathroom Remodeling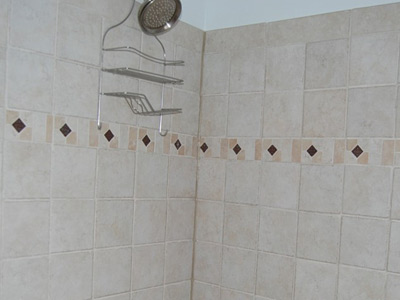 Bathrooms are used daily, and their fixtures and fittings must endure water, steam, and moisture exposure. It's why you may notice that the fittings and components begin to deteriorate sooner than others. If you feel your bathroom is outdated or it is time for a makeover, please contact us with your exact needs. We at Beebee Roofing & Contracting, LLC. have significant industry expertise and can offer customized bathroom remodeling services to customers in Northern Philadelphia.


Custom Residential Bathroom Designs
Our interior remodeling expertise and experience are unparalleled in every aspect. We provide our clients with a fantastic experience and delivering the most cost-effective and customized solutions possible. Our company has worked on projects of all types over the years.

In addition to conceptualizing, designing, and planning bathroom remodels, we offer outstanding installation services. Our team of craftsmen, plasterers, plumbers, electricians, carpenters, drywall specialists, and tilers ensures that we install each kitchen element flawlessly.


Bathroom Design Ideas and Plans
Our bathroom designers are available to answer any queries you may have on the available tiling supplies, hardware items, fixtures, fittings, mirrors, and pipework. While adhering to current bathroom design concepts, they emphasize customization and personalize each element to your lifestyle and budget. Our designers are well-informed on the most recent bathroom remodeling trends.

However, they also guarantee that the designs and concepts they provide match your demands and complement the general design theme of your home. We use only time-tested, long-lasting materials in the remodeling and complete every job in line with industry standards. Whether you want to install a custom bathroom vanity and mirror, add unique lighting, replace tiling and fixtures, or optimize ventilation, our team has the skills and experience to meet your requirements.

Our professionals will collaborate with you, ensure they understand your ideas and provide input. We tackle the planning and construction of partial bathroom remodels with the same passion and attention to detail as we do with larger projects. During partial remodels, we guarantee that the new features match the old ones, and that the bathroom is attractive, pleasant, safe, and an asset to your property. This approach ensures that you always receive value for your money.


Residential Bathroom Designs and Layouts
We also consider functionality, comfort, and maintenance ease when planning and updating your bathroom. We are the professionals to contact if you are looking for affordable, high-quality bathroom renovation services. Every part of our company and operations is geared toward delivering client satisfaction, and we stand by the level of craftsmanship.

You can be sure that we will adhere to industry standards since we are licensed and insured. Our company guarantees all its work, so you can be assured that we will do it correctly the first time. For more information on our bathroom remodeling services, please call Beebe Roofing & Contracting, LLC, through this Online Form, or call at 267-718-6931. One of our experts will call you back soon to discuss your requirements.


We Provide Services to the Following Cities, Towns and Surrounding Regions of PA: