Roofing, Siding & Windows Services in Harleysville, PA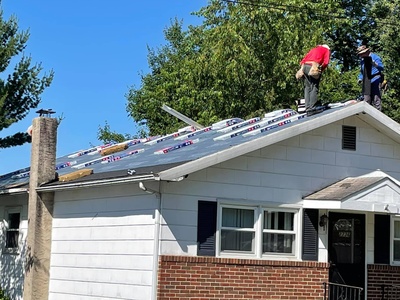 Your home's roof, siding, and windows have both functional and aesthetic importance. They protect your home from the elements and the choice of the right materials can go a long way in extending the life and beauty of your building. Like any other structure, they will also deteriorate over time, get damaged, and need repair or replacement. Beebe Roofing & Contracting provides a complete range of services for these structures. We cater to all types of service requirements for roofs, windows, and siding in Harleysville, PA, and the surrounding areas.


Roofing
From new roof installation to existing roof replacement, we can take care of all your roofing service requirements. We also provide roof restoration and repair services throughout Harleysville and the surrounding regions. All roofs are designed to last for a specific number of years or decades. The elements and lack of regular maintenance can affect their lifespan. It is important to have your roof regularly inspected, maintained, and repaired.

We work with different types of roofing materials including:

Asphalt
Concrete or clay tiles
Slate roofs
Wood shakes and shingles
Metal roofs including aluminum, zinc, copper, and stainless steel
If your roof needs a replacement, we can replace it with a more resilient material that is backed by warranties. We provide competitive pricing, high-quality products, and long-lasting results with our exceptional craftsmanship. Our experienced and well-trained roofing professionals will conduct a thorough inspection before discussing your project requirements and your material choices.


Siding
Your home exterior may need an aesthetic update. The old siding may be showing signs of age or wear and tear. You should call us if you notice any of the following signs in your siding:

Loose or cracked siding
Rotting/warping siding
Loose interior wallpaper
Peeling paint
Fungus or mold/mildew growth
Siding bubbles
Dry rot
Highly faded siding
Siding holes
Holes
We provide different types of material options to achieve your desired aesthetic and functional goals with your siding. This includes:

Wood shake
Vinyl
Steel
Fiber cement
Our knowledgeable crew will guide you in making the best choice of siding materials for your project. We will consider the local conditions and all the key factors to determine the most suitable materials.


Windows
Outdated windows can cause 30% or even more heat loss or gain in your home. You can never take worn-out, outdated, damaged, or less-efficient windows lightly. Inefficient windows cost you hundreds of dollars every year. As the energy costs continue to rise, the losses continue to increase with time. We provide custom window installation services that help you achieve much more than enhance the beauty of your home.

We have specialized windows installation contractors in our team with decades of combined experience. Whether you need to replace old frame windows in your home or need new windows for your new home, we have the expertise and resources required to meet or exceed your expectations.

We work with different types of windows, including:

Single-hung/double-hung windows
Hurricane-resistant windows
2/3-lite sliders
Aluminum windows
Vinyl windows
Fiberglass windows
Casement windows
Picture windows or fixed windows
Deterioration from weather and time, pest infestation, and rot are just a few of the reasons your windows may need replacement. If you are not certain about the current condition of your windows, you can contact us for an inspection.

Beebe Roofing & Contracting provides full-service roofing, siding, and windows installation, replacement, and repair services in Harleysville, PA. We are fully licensed, insured, and bonded to provide our services in the region. Call us today at 267-718-6931 to discuss your project requirements, get an inspection, or get an estimate. You can also write to us using this Online Form.


We Provide Services to the Following Cities, Towns and Surrounding Regions of PA: