Wood Shakes & Shingles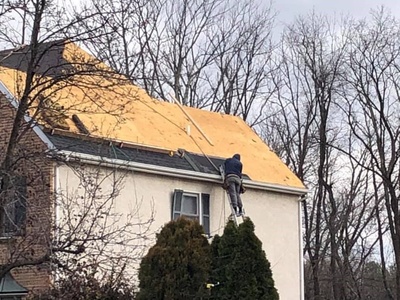 The process of installing a roof has its own set of difficulties. Property owners are looking for a roof that can withstand the elements while also boosting the aesthetics of their home or commercial establishment. Curb appeal and real estate values are also crucial to them. As an experienced contractor, BeeBee Roofing & Contracting, LLC has worked on several residential and commercial roofing projects in Northern Philadelphia.

These concerns are something we always consider. After talking about your wants and needs, our specialists will work with you to develop a feasible roofing plan. Although many new roofing materials and products are on the market, wooden roofs hold a unique appeal. Wood has a classic appearance, and wood shakes and shingles complement traditionally styled and older structures well. Here is some information about these roofing products:


Wood Shakes
Wedge-shaped, heavier, and coarser-textured, wood shakes are suitable roofing materials. In addition to western red cedar, cypress and pine, spruce, standard cedar, and California redwood are also options for shakes. Chemical preservatives and fire retardants are often used in pressure-treated shakes. These products can last for between 30 to 50 years, making them popular for roofing on residential and commercial buildings.


Wood Shingles
They are another popular rustic feel product when installing a new roof. These shingles can be produced from various wood types, including salvaged wood. Wood shingle roofs may endure up to 50 years when properly maintained. In addition, they are resistant to decay and insect damage. Most manufacturers spray fire retardants and preservatives on these shingles to increase their resistance to the elements.


High-Quality Roof Installations
We are a full-service roofing company that offers fair prices. Our professionals will design and build a robust roof framework for your house. Years of expertise have taught us the best methods for installing roofs. We can assist you if you're looking for a reliable and professional local roofing contractor. Installation of roofs relies heavily on knowledge, experience, planning, proper product selection, and experience, and we have all these in good measure.

We provide recommendations based on our knowledge of your needs, wants, and available resources, as well as your financial situation. To provide a safe and sturdy roof for you, we follow all manufacturer's recommendations to the letter. It helps protect the manufacturer's warranties while increasing the longevity of the roof.

You can rely on our knowledge and experience, no matter your tastes or needs. Our professionals will assist you in making the best decision for your property's roof. Roof installation also includes insulation, ventilation, and gutters, and we handle all these jobs to industry standards.

We are here to provide you with all the information you require about wood shakes and shingles and their pros and cons. If you are looking for cost-effective, reliable, and timely roof installation, replacement, or repair services, we are the professionals that can help. Please call BeeBee Roofing & Contracting LLC at 267-718-6931 or send us a message through this contact us form for more information.


We Provide Services to the Following Cities, Towns and Surrounding Regions of PA: