Roofing Contractor Services in Warrington, PA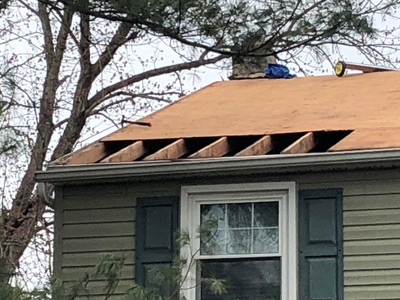 Selecting a certified roofing contractor in Warrington, PA, is a significant decision. Beebe Roofing & Contracting, LLC is a leading Roofing Contractor in Warrington, PA, and we cater to residential and commercial clients.

Hiring us ensures that your roofing project benefits from several critical advantages. Certification signifies a commitment to quality, and we adhere to industry standards and use top-notch materials. Furthermore, their expertise is valuable, allowing them to tackle even complex roofing issues with precision and effectiveness.

Safety is paramount, and certified contractors prioritize safety protocols to protect your property and their team. We offer warranties, providing added peace of mind for your investment. Our familiarity with local building codes and regulations ensures that your project complies with all necessary guidelines.

We also maintain high professionalism, emphasizing transparent communication and reliable services throughout your roofing project. Choosing us guarantees a roofing project that combines quality, expertise, safety, and compliance.


Comprehensive Roofing Services for Your Every Need
We understand that your roofing needs can vary. That's why we offer comprehensive services to cater to your specific requirements. Whether you need a new roof installation, minor repairs to address leaks or damage, routine maintenance to extend your roof's lifespan or a complete roof replacement, we have the expertise and experience to get the job done efficiently and effectively. No matter the scale of your project, we're here to provide top-notch roofing solutions that meet and exceed your expectations.


What You Can Expect from Our Roofing Contractor Services
There are many reasons to choose us for all your roofing requirements, such as:


Skilled Craftsmanship - Our team of experienced roofing professionals is highly trained and dedicated to delivering quality repairs. We have the expertise to handle a wide range of roofing materials and styles, from asphalt shingles to metal roofs.


Timely Service - We know that roofing issues can't wait. That's why we prioritize quick response times and efficient repairs. Whether it's a minor leak or significant storm damage, we'll address the problem promptly.


Transparent Communication - We believe in open and transparent communication with our clients. We'll thoroughly assess the damage, explain the necessary repairs clearly, and offer upfront pricing so you can make informed decisions.


Customer-Centric Approach - Your satisfaction is our goal. We work closely with you to understand your requirements and deliver customized solutions that meet your expectations.


Quality Materials - We use only the finest roofing materials to ensure the durability and longevity of our repairs. You can trust that your roof will withstand the test of time.


Our Range of Roofing Repair Services
A well-maintained roof is paramount when it comes to the safety and longevity of your home or commercial property. At Beebe Roofing & Contracting, LLC, we understand the importance of a sturdy, leak-free roof, and we're here to provide top-notch roofing repair services that you can trust, such as:


Leak Detection and Repair - Our experts excel in identifying and repairing leaks, preventing further water damage to your property.


Storm Damage Restoration - We specialize in restoring roofs damaged by severe weather, such as hail, wind, or heavy rain.


Shingle Replacement - If your shingles are damaged or missing, we'll replace them to restore the integrity of your roof.


Flashing and Vent Repairs - We address issues with flashing and vents to prevent leaks and maintain proper ventilation.


We are committed to providing quality, timely service while maintaining transparent communication. When you choose us for your roofing repairs, you are choosing excellence and peace of mind.

For details about how our roofing contractor services in Warrington, PA, please write to Beebe Roofing & Contracting, LLC through this Online Form or call 267-718-6931. One of our team members will contact you soon.

We Provide Services to the Following Cities, Towns and Surrounding Regions of PA: