Roofing Repairs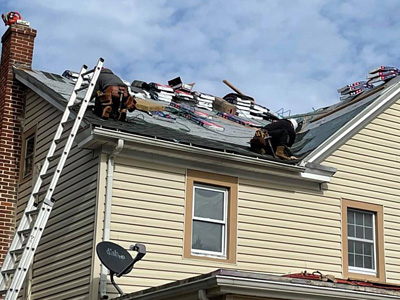 Your roofing is the finishing feature of your home, protecting you, your family, your assets, and the interior of your property from harm. It's just not worth taking the risk of postponing roof repairs for an extended period if they become urgent. It is essential to hire a reputable and recognized roofing contractor in Northern Philadelphia like us at Beebee Roofing & Contracting, LLC. We offer the best general roof repair and maintenance, guaranteeing these features remain in excellent shape.


End-To-End Roof Repair Solutions
Our certified roofing professionals are familiar with all the different roofing components. They can analyze the structure's condition and determine if it is repairable or requires replacement. Additionally, we adhere to the manufacturer's guidelines while performing repairs or replacements. This helps maintain the guarantee and lowers your costs.

A complete examination will include all the roofing elements. Our roofing experts will prioritize each concern they discover, so you'll understand what must be corrected immediately and what can wait.

With the assistance of our skilled technicians, you can make educated decisions about look, sturdiness, price, brands, and materials. Detailed information enables you to carefully weigh the benefits and drawbacks before investing money in repairs.


When You Might Need Roofing Repairs
Roof damage can develop because of a multitude of factors. From the ground level, determining the degree of roof damage is demanding. Be on the lookout for various indicators that the structure is in poor condition. Most damages to property result from age, storms, rain, and wind, and these conditions are often more evident on the rooftop.

It is prudent to visually assess the roof following storms, heavy downpours, and windy days. These inspections should include the shingles, other components, guttering, etc. This approach prevents you from dealing with problems down the road, which is especially important after inclement weather.


Customized Roof Repair Services
DIY repairs are dangerous because they require working at heights without proper safety equipment and knowledge, resulting in serious injury. Our skilled roofers are competent, experienced, and well-trained, and it's best to hire professionals like us for the work. They can resolve a wide variety of roofing problems and are knowledgeable about various roofing materials. We can assist you if you require objective, competent consultation and material recommendations.

The experts will gladly answer any queries you may have and provide practical and cost-effective solutions to your roofing troubles. Additionally, our specialists use caution throughout the roofing repair or replacement works. They are adept at repairing roofs effectively and at doing it safely. They use protective gear and follow industry best practices to avoid injury during the process.

They thoroughly inspect each component to verify the roofs are sound. Our crew is knowledgeable and dedicated to providing high-quality services to all clients. We are capable of efficiently managing projects of any size or type. For more information on roofing repairs, get in touch with us at Beebe Roofing & Contracting, LLC via this Online Form, or give us a call at 267-718-6931, and we will get back to you right away.


We Provide Services to the Following Cities, Towns and Surrounding Regions of PA: