Pergolas and Gazebos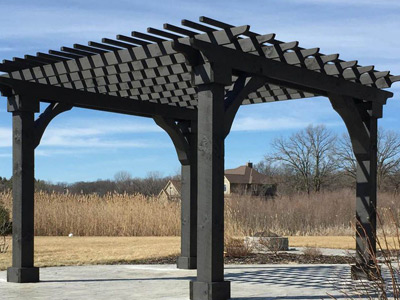 Today, many homeowners put in extra effort to make their homes stand out. They research modern interior design ideas online and hire reliable professionals to implement them in their homes. They put a lot of thought into the internal layouts, but they also seriously consider the exterior; this is where outdoor structures come in.

The Beebee Roofing & Contracting LLC team has worked on several pergola projects in the Ambler, PA, area. We provide comprehensive services, including installing any pergola or gazebo of your choosing. You can provide much-needed shade to your patio or deck by constructing a pergola, and a gazebo can be a great addition to a yard or landscape.


What Are Pergolas?
These impressive additions will significantly enhance the visual appeal of your outdoor spaces. Pergolas are not only beautiful but also quite valuable additions to the garden. These structures have latticed beam ceilings that stand on four posts, and you can install a pergola on your patio, deck, or any other part of your garden or landscape. Growing a variety of vines on them will give extra shade, allowing you to spend the day outside.

We tailor the pergola design to your needs to ensure it complements your home's existing aesthetic rather than detracting from it. Our crew will make sure that your pergola complements the rest of your outside space.


What Are Gazebos?
The basic design of gazebos dates back thousands of years. Ancient Greeks and Romans also used gazebos to enhance their gardens and provide a comfortable gathering place. They have also been widely used in Asian gardens and affluent European estates for seclusion and social gatherings like high tea. A gazebo is a timeless addition to any yard, perfect for socializing, relaxing, and more. A gazebo can serve several purposes, and many people use them:
As a spot where people congregate to spend time together
As adornment for their garden
Ceremonies or other special occasions, such as weddings
A shaded picnic pavilion
There are various factors to consider while planning a gazebo for your yard. Choose a gazebo material, form, roofing material, roofing style, and any extras you would like. There are four standard gazebo designs. You can purchase a gazebo in various shapes, including a rectangle, an octagon, an oval, or a dodecagon.

A dodecagon gazebo has 12 sides, which sounds strange but is relatively common. Due to its numerous sides, it is usually more expansive. Because of this, it is an excellent option for accommodating many guests or filling a sizable space. We are here to help you choose the perfect gazebo or pergola for your property.

We have the skills, resources, and creativity needed to design and build unique pergolas and gazebos that enhance your property's functionality, beauty, and value.
For more information, please call the Beebee Roofing & Contracting LLC team at 267-718-6931. If you prefer to drop us a line, please write to us via this Online Form, and we'll call you as soon as possible.


We Provide Services to the Following Cities, Towns and Surrounding Regions of PA: