Roofing Contractor Services in Willow Grove, PA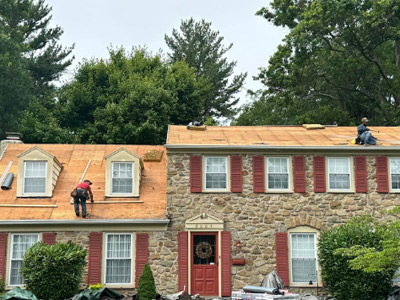 Your roof is a crucial house structure, and you need certified and trained professionals for its installation, upgrade, maintenance, and repairs. Roofing tasks require expertise to ensure the safety and integrity of your home.

Hiring a skilled roofing contractor like us at BeeBee Roofing & Contracting LLC ensures that the job is done correctly and efficiently, protecting your property from potential issues. Trusting certified experts gives you peace of mind, knowing that your roof can provide you with a secure and sheltered home.


Professional, Local Roofing Contractor
We provide superior roofing services to our valued customers. With years of experience and a team of highly skilled roofers we deliver outstanding solutions in every project we undertake. Our commitment to quality craftsmanship, top-grade materials, and attention to detail ensures that your roofing needs are met with precision and durability.

We prioritize customer satisfaction, offering transparent communication, competitive pricing, and timely completion of projects. When you choose us, you can trust that your Willow Grove, PA, roofing needs are in the experts' hands.


Range of Roofing Services We Provide
As a full-service roofing contractor, we offer a comprehensive range of roofing services to meet the diverse needs of our clients, such as:


Roof Installation: Our experienced team specializes in installing new roofs for residential and commercial properties. We work with various roofing materials, such as asphalt shingles, metal, tile, and more, ensuring a secure and aesthetically pleasing roof for your property.


Roof Replacement: If your roofing is damaged beyond repair or at the end of its lifespan, we offer superior roof replacement services. Our experts will carefully remove the old roof and replace it with a new, durable one, providing enhanced protection for your property.


Roof Repair: We offer prompt and efficient roof repair services for leaks, damaged shingles, sagging roof sections, and more. Our team conducts thorough inspections to identify the problem and implements the necessary repairs to restore your roof's integrity.


Roof Maintenance: Regular roof maintenance is essential to extend the lifespan of your roof and prevent significant issues. We offer comprehensive maintenance packages, including cleaning, inspection, and minor repairs, to keep your roof in top-notch condition.


Emergency Roofing Services: Roofing emergencies can occur unexpectedly. We can immediately assist with storm damage, leaks, and other urgent roofing issues. Our 24/7 emergency services ensure your property is protected even during challenging situations.


Gutter Installation and Repair: Properly functioning guttering is crucial for efficient water drainage from your roof. We offer gutter installation and repair services to prevent water damage to your property and ensure the longevity of your roof.


Roof Inspections and Assessments: Our team conducts thorough roof inspections and assessments to evaluate the condition of your roof. We provide detailed reports on its current state and recommend the appropriate action, whether repair, maintenance, or replacement.


Skylight Installation and Repair: Skylights can add natural light and enhance the ambiance of your living space. We offer expert installation and repair services for skylights, ensuring they are properly sealed and secure.


Commercial Roofing Services: Our roofing services extend to commercial properties as well. We have the expertise to handle large-scale roofing projects for businesses, offices, warehouses, and more.

With a commitment to quality, safety, and customer satisfaction, we are your reliable partner for all roofing needs. Whether it's a minor repair or a complete roof installation in Willow Grove, PA., you can trust us to deliver exceptional results that protect your property and provide peace of mind for years.

For more details, please write to Beebe Roofing & Contracting, LLC via this contact us form or call 267-718-6931 and speak with our expert team.
We Provide Services to the Following Cities, Towns and Surrounding Regions of PA: