Gutters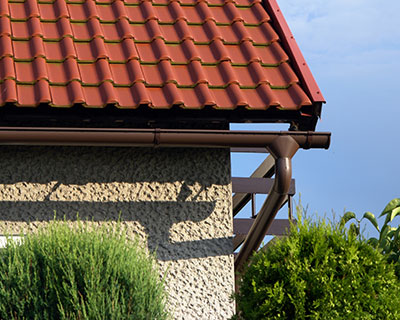 Every homeowner knows exactly how important gutters are to the overall integrity of their home. Just as you focus on getting high-quality roofing structures installed, you also need to ensure that the gutters and downspouts are of good quality and installed by experts.

If you are looking for guttering services, we at Beebe Roofing & Contracting, LLC are the experts to come to. Our company caters to customers in and around Ambler, North Wales and Lansdale. We have successfully completed gutter installation projects for customers across Fort Washington, Horsham, Blue Bell, and Manayunk.
Types of Residential Gutters
We have also built a very strong customer base in Montgomery, Bucks and Philadelphia. In the recent years, a number of property owners in Ambler, Lansdale Horsham, have hired us for gutter replacement, installation and repair. Since we are a full-service roofing and guttering company, you can rest assured that the features we install will be functional, stable and very long-lasting too.
Aluminum gutter features are among the most widely used gutters and most properties in the region have them. These are traditional style gutters with joints and seams along the length of the feature. But now you can also opt for seamless aluminum rain gutters. As the name suggests these gutters have no seams and are more in demand because the absence of seams and joints reduces the chances of leakages.
Leaking gutters can lead to a number of problems such as damage to the siding, water pooling around the foundation of your home and more. This is why we recommend the use of seamless gutter installations over conventional aluminum gutters. Whether you are looking for seamless aluminum gutters or the more traditional features with seams, our team will work very closely with you to provide you the type of gutter installation you need.
Gutter Guard Installation
The one way to prevent obstructions and blockages in the gutters is to get gutter guards installed. We can include these as part of your new gutter installation project or install them on existing guttering too. Gutter guards and other similar accessories help keep your gutters free of leaves and debris and help prevent the overflow of water.
When we handle any residential gutter installation or replacement project, you can rest assured that the best materials, products, hardware and craftsmanship will be used in the work. This ensures the strength and longevity of the features. In addition, we also provide gutter maintenance and repair solutions that help improve the efficiency and reliability of the existing features. We never cut corners in our work and ensure that the work is completed with the least amount of disruption on your property.
Whether you want new gutters installed, or existing ones replaced, or repaired, Beebe Roofing & Contracting, LLC is the company to call at 267-718-6931. We serve both residential and commercial clients and provide excellent services at very competitive guttering cost. You can also send us your project details via this Contact Us form.
We Provide Services to the Following Cities, Towns and Surrounding Regions of PA: