Roofing Installation in Collegeville, PA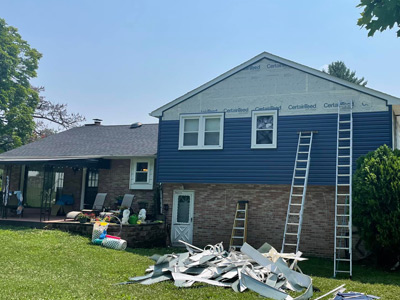 Building a new roof is a significant task; it involves a substantial investment and should not be taken hastily. Choosing high-quality roofing and having the feature installed by seasoned roof installers can help ensure that it lasts for decades with minimal upkeep.

A good roof may need a higher initial commitment, but it'll be well worth the cost in the long run. A robust, stable, and lasting roof will give adequate protection and raise the aesthetic appeal and value of your home. If you need roofing installation in Collegeville, PA, Beebe Roofing & Contracting, LLC, is the company to contact.


Professional Local Roofing Installation Company
Our business serves residential and commercial customers throughout the region, and they have benefited from our effective roof installation services. Our crew of skilled and knowledgeable roofers can install roofs of all shapes and sizes in the materials you prefer. Whether you need a roof for a new house or to replace an existing one, we are ready to help with any job.


Roofing Installation Focus Points
As skilled and experienced roofers, we go the extra mile to create the best experiences for our clients. It also means that we are proactive and attentive when discussing your requirements. Other aspects we focus on include:


Our business is founded on quality and dependability, and we never compromise on any aspect of the project.
We use the highest quality materials and labor for the project.
Our specialists guarantee that all re-roofs are appropriately fastened and not just tacked.
We construct new ice and water barriers in all valleys, whether it is necessary.
We will replace the plumbing and vent flashings.
We also install and upgrade ventilation systems for roofs.
Varieties of Roofing Materials
Depending on the materials chosen, a newly constructed roof structure is expected to endure between 30 and 50 years without needing repair. Before beginning a project, it is essential to assess the materials and methods thoroughly. We approach every project with the same degree of dedication and meticulous attention to detail. There are a variety of roof systems to choose from, including:


Clay and concrete roofing
Shakes and shingles of wood
Slate roofing
Aluminum, copper
Zinc
Stainless steel
Others
Customized Roofing Services
Our company recognizes that every client has specific requirements, so we always adopt a customized approach in our projects. Our team will work closely with you, take the time to understand your ideas, and assess the structure before coming up with the best roofing plans. Our skilled and certified roof installers follow manufacturer specifications while handling these projects, which ensures that you have a robust and long-lasting roof for your property.

We provide you with all the information you need on the various kinds of roofing materials and their benefits and downsides. This gives you all the details you need about residential roof costs and roofing, allowing you to make a better-informed decision. Our input also helps guide your choices for this significant investment in your home or business structure.

We are among the most well-established roofing firms in the area and can handle all forms of roof installation, repairs, maintenance, and replacement. In short, we can handle all your big and small roofing requirements to industry standards.

For more information on roofing repair and installation services in Collegeville, PA, get in touch with us at Beebe Roofing & Contracting, LLC, via this Online Form, or call us at 267-718-6931, and we will get back to your right away. We serve commercial and residential clients and provide customized services at competitive prices in line with your requirements.

We Provide Services to the Following Cities, Towns and Surrounding Regions of PA: