Slate Roofing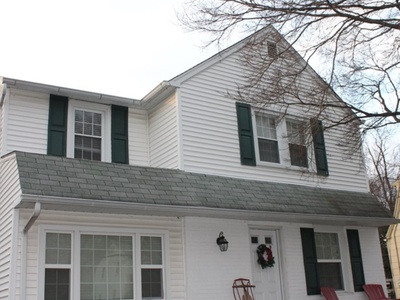 A variety of innovative materials and products have been launched into the roofing industry over the past decade. Despite the proliferation of high-tech commodities, some materials, such as slate, have managed to preserve their own. Simply put, slate roofing has a particular appeal and is quite durable. A natural stone is thinly cut into roofing tiles.

There is a clean, polished aspect to the roof, thanks to the constant thickness of these tiles. There are several roofing projects that BeeBee Roofing & Contracting, LLC, has been a part of in the Northern Philadelphia area. We provide commercial and residential clients with the best slate roofing installations.


Why Choose a Slate Roof?
Because it is laminated rock, this metamorphic stone may be cut into uniformly thin tiles. A wide variety of tiles from all around the world are now available on the market. A distinctive and natural slate tiled floor may also be used to create the aesthetic you choose for the rest of your home. Slate roofing has a variety of advantages over other roofing materials, including:


Because of its natural beauty and wide range of colors and textures, roofers use it to create a wide variety of architectural designs
As long as it's properly cared for, it may endure for up to 150 years!
It raises the market worth of your home as well as its aesthetic appeal
You can safeguard your home and belongings from fire by using slate, which is inherently fire-resistant
This type of tile is ideal for poor weather, such as heavy rain or storms, because of its hard surface and weight
Slate is also good for the environment since it is a natural product that can be securely disposed of when it has fulfilled its function
Slate Roofs Are Value for Money
Slate roofing is popular because of its many advantages. At the same time, this is a pricey material to install. However, it is long-lasting and low-maintenance, and it provides long-term value when installed expertly and maintained well. Slate roofing is used extensively in our projects, and we install it with care and precision. With this, the roof will last longer, and there will be no worries about heavy winds damaging the tiles.


Installation of the Best Slate Roofing
A roof is a significant investment, and we'll work closely with you to design it and help you choose suitable materials. Thanks to our roofing specialists' expertise, certification, and skill, we will complete the installation on schedule. We have the resources, skills, and experience to ensure that every job is handled to your complete satisfaction.

We are here to provide you with all the information you need about slate roofing and its pros and cons. If you want cost-effective, timely, and reliable roof installation, replacements, or repair solutions, we are the company that can help. Please call BeeBee Roofing & Contracting LLC at 267-718-6931 or send us a message through this contact us form for more information.


We Provide Services to the Following Cities, Towns and Surrounding Regions of PA: