Metal Roofing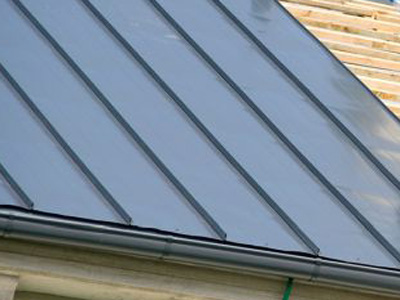 BeeBee Roofing & Contracting, LLC, is the company to call if you're thinking about installing metal roofing on your home or business. We have earned a good reputation in Northern Philadelphia for our expertise in this field all through the years, and we excel in designing and installing the best asphalt roofing for commercial and residential buildings.

Our clients know they can rely on us regarding the materials, craftsmanship, reliability, guarantees, and on-schedule work we provide. In addition, we make sure you get solutions that are within your budget.


Benefits of Metal Roofs
We can install metal roofs of the finest quality for you. To meet your needs, we offer a wide range of services tailored to your specific needs and never falter on professionalism, customization, and customer satisfaction. With good reason, metal has been a popular choice for roofing in recent years. There are several advantages to using it, including the following:


Metal roofs have a long lifespan
They require minimal upkeep once installed according to the manufacturer's guidelines
Specific coatings on modern materials deflect solar radiation Sarking is an integral part of the installation process and helps keep the temperature of your home at a suitable level
A metal roof won't need replacement for a long time (20-30 years)
It is impervious to insects and decay
The material is fire-resistant
It is environment-friendly
Reduces the expense of heating and air conditioning
These products come in a variety of colors
Cost-effective
Aesthetically appealing
Long-Lasting Metal Roof Installation
Metal roofs are available from a wide range of manufacturers, each of whom offers a unique warranty. In addition, we provide you with a guarantee of our work. As a rule of thumb, most clients who hire us for installation also pick our maintenance plans. Repair costs are reduced because of this approach. Among the many advantages of metal roofing is that it weighs less than concrete tiles, which contributes to the structural integrity of the building.


Why Metal Roofing Is Right For You
It can resist harsh weather conditions since it doesn't degrade like many other roofing materials. You can find metal roofing that looks like cedar shakes and shingles or slate if you prefer this natural look. In some settings, installing a new metal roof over an existing structure may be possible without removing the latter at all. This way, you end up saving some money on the roof replacement.

We are here to help assess the condition of your existing roof before recommending the best approach. We work with property owners needing roofing services for new construction and provide superior solutions within their budget. When you call us with your requirement, you will find that our team is knowledgeable and forthcoming with information and details regarding products, pricing, and more.

BeeBee Roofing & Contracting LLC provides high-quality metal roof installation, re-roofing, and repairs. We have the knowledge, skills, and resources required to install commercial and residential roofing. Please call us at 267-718-6931 or write to us via this contact us form for more information.


We Provide Services to the Following Cities, Towns and Surrounding Regions of PA: