Soffit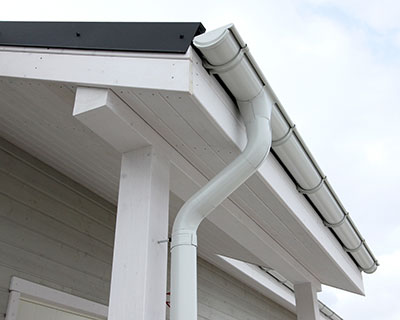 Most people know that soffits are installed along with a roof structure, but aren't too sure about what their purpose is and why having the right kind of soffit matters. When you look up at your roof structure, the narrow panels that connect the overhang portion of the roof to the exterior walls of your home are the soffits.

Traditionally, these installations are made of wood, but today many homes across the region sport soffits made of steel, aluminum, composite, fiber or vinyl. Many property owners also install soffits in outbuildings on their properties as well. While it's important to choose high-grade soffit products, you need to focus on hiring a skilled and experienced general contractor that can handle soffit installation for you. If you are looking for soffit installation services, we at Beebe Roofing & Contracting, LLC are the experts to come to.

Our company caters to customers in and around Ambler, North Wales and Lansdale. We have successfully completed roof installation projects for customers across Fort Washington, Horsham, Blue Bell, and Manayunk. We have also built a very strong customer base in Montgomery, Bucks and Philadelphia. In the recent years, a number of property owners in Ambler, Lansdale Horsham, have hired us for soffit replacement, installation, and repair.
Soffits - What Functions Do They Serve?
Soffits aren't just cosmetic features that are installed to enhance the aesthetics of a property. They also serve a number of vital functions including:
Provide effective cover to the underside of the roofing eaves and ensure that the rafters aren't visible from below.
Help improve ventilation in the attic spaces as air can flow in and out through them.
Help in preventing the excessive buildup of moisture within your home as they limit the entry of moisture.
Soffit installations improve the appearance of your home and increase its value too.
Custom Soffit Installation Services
There are a number of different types of soffit colors and styles to choose from, so you can easily find something that complements the appearance of your roof and the exterior walls of your home. We have worked with different types of soffits and know how each of these materials holds up to the local climate changes, exposure to the elements and regular wear and tear.
Vinyl soffits are a good choice because they don't warp, fade, get impacted by insects and termites and are available in a variety of styles. You can choose from vented or solid soffit installations in colors that blend in with the exterior of your property. You also have the option to install solid and vented soffits alternately. This helps improve ventilation and adds the interest quotient to the feature.
Our experts will understand what your specific requirements are and will provide excellent solutions that suit your needs. Whether you want new residential soffit features installed, or existing ones replaced, restored or repaired, Beebe Roofing & Contracting, LLC is the company to call at 267-718-6931. We serve both residential and commercial clients and provide excellent services at very competitive soffit cost. You can also send us your project details via this Contact Us form.
We Provide Services to the Following Cities, Towns and Surrounding Regions of PA: