Roofing Repair & Tear Down Services Blue Bell, PA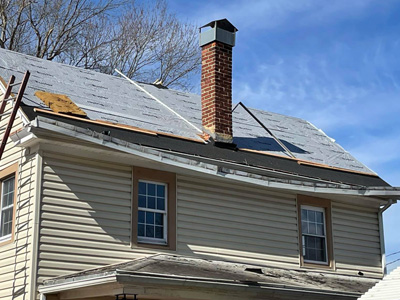 All roofs will need to be repaired at one point or the other. It is best to fix your roof for minor issues before they become complex and problems that may require major repairs or even roof replacement. We at Beebe Roofing & Contracting are a fully licensed and insured roofing and general contracting company in Blue Bell, Pennsylvania. From installing new roofs to replacing and repairing your existing roof, we take care of everything. Our roofing services cover everything including installation, repairs, tear down, and even snow bar installation and service.


Roofing Repair Services
Roofing issues, no matter how small, should be addressed quickly and effectively. If you are a homeowner, business owner, or commercial property owner, you know the importance of maintaining your roof's integrity. We can handle all types of roofing repair tasks in Blue Bell and the surrounding regions. Our experienced and certified team of contractors and technicians can complete your repair job on time.

Over the years, we have built up a team of licensed and trusted professionals with experience throughout the northern Philadelphia area. Our team has decades of combined experience and can fix different types of roofs including:
Asphalt shingles
Slate tiles
Metal roofing
Clay/concrete tiles
Wood shakes
Roofing Tear Down Services
As roofing experts in northern Philadelphia, we also provide roof tear down services. If during an inspection we find that your roof has only a single layer of shingle down, we will recommend a complete tear down. A roof tear down project can be messy. We take all precautions to keep your property and plants clean and safe. We can use:
Plywood
Tarps
Sheeting boards
Our team is equipped with the latest and state-of-the-art equipment to handle the most complex roofing projects.


Roofing Snow Bars
We also specialize in installing roofing snow bars that protect your property and enhance safety around it. Northern Philadelphia experienced heavy snowfall, and this is accompanied by different types of maintenance tasks. The task of clearing snow and ice dams from your roof can be difficult and prone to risks. We can install snow bars in styles that perfectly complement your property's existing looks. They will also prevent snow and ice from falling off your roof, all at once.

The system will work by allowing snow and ice to sit in place until they begin to melt. The water will then be diverted to the gutter system. Snow bars are smart investments for homeowners and business owners. We can install them on almost all types of roofing systems, they are more popular with metal roofs.

At Beebe Roofing & Contracting, we have a large team of in-house roofing experts specialized in providing all types of roofing solutions in Blue Bell and the nearby towns and cities.
If you need more information about our roofing, window, and siding services, feel free to get in touch with us. Give us a call at 267-718-6931 or send us your detailed inquiry using this Online Form.


We Provide Services to the Following Cities, Towns and Surrounding Regions of PA: