Roofing Contractor in Doylestown, PA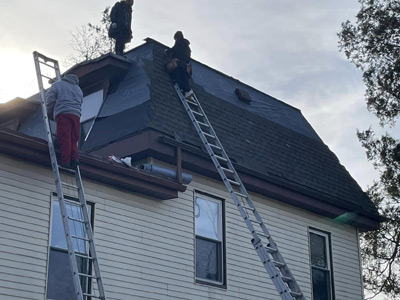 While a high-quality roof may require a more significant initial investment, it can save you a lot of money in the long run. Not only does it offer excellent protection, but it can also add value to your property and boost the overall appearance of your home. If you're searching for roofing services, Beebe Roofing & Contracting, LLC is the company to contact in Doylestown, PA.

Our team will provide detailed information on various roofing materials and their advantages and disadvantages. With this knowledge, you can decide about your residential roofing needs and costs.


Our Range of Roofing Services
Our commitment to customer convenience is a top priority. As a comprehensive roofing contractor, we offer property owners a full range of services. Our experienced team of professionals is well-equipped to handle all roofing needs, from installation to repairs and everything in between.

We understand the importance of attention to detail, and our goal is to exceed customer expectations by providing reliable, high-quality roofing services. With our extensive experience, you can trust that your property is in good hands. As one of the most reputable roofing companies in the area, we offer a wide variety of services, including:
Roof replacement
New roof installation
Roof inspection and maintenance
Emergency roofing services
Storm damage repair
Flat roof services
Shingle roof services
Metal roof services
Tile roof services
Roof repair
Skylight installation and repair
Gutter installation and repair
We can handle all types and sizes of roofing projects with ease. Whether you need a roof installed for your newly constructed home or have an existing roof that requires repair or replacement, our team is here to help.

We understand that your roof is an essential part of your home and that it needs to be installed correctly to ensure its longevity and durability. That's why we pay attention to every detail and use only the highest quality materials and equipment to complete your roofing project.


Comprehensive Roof Repairs
Your roof is essential to your home, protecting your loved ones, assets, and property's interior from damage. Delaying necessary roof repairs can lead to further problems down the line.

Our company has a team of certified roofing professionals who are well-versed in all aspects of roofing. They thoroughly analyze your roof's condition to determine if it needs repairs or replacement. We strictly adhere to the manufacturer's guidelines while performing repairs or replacements to ensure that the warranty remains valid, and costs are minimized.

Our roofing experts conduct a comprehensive inspection of all roofing components to prioritize each concern and determine which ones require immediate attention and which ones you can address later.


Range of Roof Repair Services
Our team of experienced technicians will provide the details you need to make an informed decision about your roofing options. We can provide detailed information about the look, durability, cost, brand, and materials of different roofing options, allowing you to make a careful and informed decision before investing in any repairs. With our assistance, you can confidently choose the best roofing solution that fits your needs and budget. We handle all types of roof repairs, such as:
Fixing leaks
Repairing storm damage
Replacing missing or damaged shingles/tiles
Repairing or replacing flashing
Fixing ventilation issues
Repairing or replacing gutters and downspouts
Repairing or replacing skylights
Addressing pest damage
Repairing or replacing flat roofs
Repairing or replacing chimneys and chimney flashing
Customized Roof Repair Services
Our roofers have extensive knowledge in handling various roofing problems and materials. We're committed to providing our clients with objective, competent consultation, and practical, cost-effective solutions for roofing troubles.

We take great care to ensure our team's and clients' safety during repairs or replacement projects, following industry best practices and wearing protective gear to prevent any injury. They are always ready to answer questions and recommend the best roofing materials.

For details about how our roofing contractor services in Doylestown, PA, please write to Beebe Roofing & Contracting, LLC through this Online Form or call 267-718-6931. One of our team members will contact you soon.

We Provide Services to the Following Cities, Towns and Surrounding Regions of PA: