Window Replacement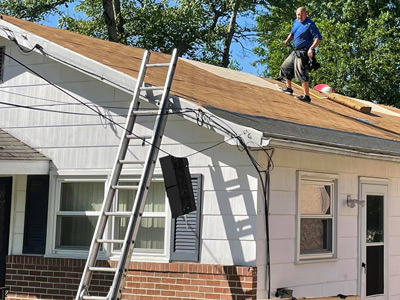 Investing in new windows for your home necessitates careful preparation and a significant financial commitment. As a result, working with a company like Beebee Roofing, which has been around for a long time and has a solid reputation, is essential. Customers in Northern Philadelphia know they can count on us to deliver high-quality, dependable, and customized window solutions since we've been in the business for so long.


Local Window Replacement Experts
Whether a client is a homeowner or a business owner, they all have unique needs. Our team of experts will consider these factors, and we will offer you replacement windows that fit your budget. You can count on receiving exceptional value for your money when you work with us to replace your windows.

Our crew will carefully dismantle your present window structures without causing any damage to the home's structure and other elements. The newer energy-efficient windows will fit perfectly in the opening once they've finished this step.


Types of Replacement Windows
Despite there being many items on the market, you should only choose ones that meet all of your specific needs and expectations. Listed below are some of the window replacement choices we have available:


Slider with a side-to-side function - Most homeowners prefer these windows, which we can install using several channels or panels of any size.


Double-hung with bottom or top function - These windows include a slide-down/slide-up mechanism, and have divided panes, set one above the other.


Single-hung with a standard bottom-up function - These windows are suitable for upper-story bedrooms and other rooms and ideal for commercial structures.


Fixed or Picture Windows - These windows have only one fixed pane and are large and help frame outdoor views beautifully.


Casement with the standard swing-out operation - Some homeowners want an open and close function of their windows and do not like sliding windows or single/double-hung windows because they partially block the view. It's where our modern casement windows come in. With two panes mounted on solid hinges on either end of window openings, you can open both panes simultaneously.
We can help with long-lasting, cost-effective solutions regardless of your window replacement needs.


Range of Replacement Window Options
There's a wide range of well-known window brands to choose from. Some manufacture vinyl windows in both conventional and customized designs. These products are suitable for property owners that do not want wood/fiberglass elements.

Some brands offer budget window replacements. They have a great selection of competitively priced windows with energy-efficient solutions at varied pricing. This wide availability helps ensure you can find something to fit your budget.

If you are looking for something unique, you will find exquisitely crafted, ssuperior-quality windows custom-fit to your specifications. You can choose from glass varieties including float glass, insulated glass, custom-tempered glass, and coated glass

For more information on our window replacement services, please call Beebe Roofing & Contracting, LLC, through this Online Form, or call at 267-718-6931. One of our experts will call you back soon to discuss your requirements.


We Provide Services to the Following Cities, Towns and Surrounding Regions of PA: